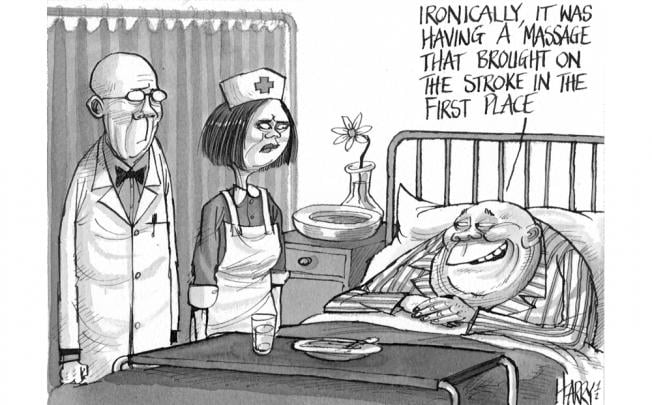 CT scan
– The first imaging test to order when ischemic stroke is suspected.
– Risk of radiation and also not so sensitive in early phase of stroke. Primary goal is to detect any hemorrhagic components which maybe an contraindication for thrombolysis therapy.
Stroke evolution in CT
Hyperacute stroke (0-6 hours)
– Not sensitive in cerebral infarction
– Look for subtle signs eg loss of insular ribbon sign, blurring of gray/white differentiation, hypodensity in basal ganglia.
– Hyperdense MCA sign is often suggestive of a persistent large vessel occlusion with poor prognosis.

Loss of Insular ribbon sign: loss of gray-white differentiation in the insular ribbon

A hyperdense MCA sign

MCA dot sign: thromboembolism of MCA branch located in Sylvian fissure
Acute phase (6-24 hours)
– The early changes in hyperacute phase become more apparent.
Subacute (within 1 week)
– The infarcted areas are hypodense.
– Edema and mass effect, hemorrhagic transformation (which peak at 1-2 days)
– Commonly hemorrhagic transformation is in the form of petechial hemorrhage which isn't clinically significant and does not have any mass effects. But sometimes it can be large intracerebral hematoma (which can cause ICP elevation and is clinically relevant).

Petechial hemorrhage (hyperdense findings in basal ganglia) in large MCA infarct (hypodense areas) (5 days post-infarct)
At 2-3 weeks post infarct, fogging phenomenon can happen.
– The initial hypodense infarcted areas regain a near normal appearance.
– It is believed to be the result of migration into the infarcted tissue of lipid-laden macrophages as well as proliferation of capillaries, and decrease in the amount of oedema.
– If in doubt, give contrast (CT or MRI with contrast),  gyral enhancement could be seen,
Cortical laminar necrosis
–  Characterised by the cortex cell death, mainly in the third layer, in situations of reduced energy supply to the brain
Hypoxia eg supply problem eg stroke, severe anemia or exhaustion problem eg status epilepticus
Hypoglycemia
– Seen in CT with contrast or MRI with contrast as gyriform enhancement in the area of infarction.

CT done at the acute onset of stroke

CT done 7 days later demonstrated "fogging phenomenon"

T1 C+ was performed at day 12 which demonstrated gyral enhancement of the infarcted areas.
Chronic stage (> 1 month)
– Cerebral atrophy and with marked hypodensiy and lack of mass effect.
Evolution of stroke in CT

From Radiology Channel: Stroke: Evolution from acute to chronic infarction – radiology video tutorial (CT, MRI)
---
Use of MRI in stroke
– Possibly not often used due to its inavailibility and higher cost.
– However, is more sensitive than specific in identifying stroke than CT.
Stroke evolution in MRI
Hyperacute stage
– T2 often does not show any abnormality, but use of FLAIR may reveal hyperintense vessels (HVS) due to slow flow.
HVS is reversible and associated with hypoperfusion without infarction.
– DWI will show areas of hyperintensity consistent with cytotoxic edema (low ADC value)
DWI is highly sensitivty in identifying hyperacute stage of stroke, while conventional MRI sequences may not show the signs until several hours after infarction happens

DWI sequence
– PWI is able to show larger area of tissues at risk of infarction (but not yet infarcted)/ ischemic penumbra than shown DWI (perfusion-diffusion mismatch)

Areas in blue are ischemic penumbra.

Areas in green are ischemic penumbra.
Acute stage
– What are shown in hyperacute stage become more apparent during this stahe.
– T2 hyperintensity becomes more obvious as early as 8 hours after infarction due to cytotoxic edema.
Subacute stage
– Gyral enhancement postgadolinium contrast.
– Petechiae hemorrhage (dark on T2 and normally bright in T1, but could be isointense in both sequences if hemorrhage is detected at its hyperacute stage i.e <1 day)
Chronic stage
– Brain atrophic has the same sequence as CSF (dark in T1 and FLAIR, bright in T2)
– Chronic gliosis (T2 hyperintensity) may also be seen in nearby location.
– Because cells disintegrate, fluid can migrate to ECF so DWI is now dark with high ADC.
References:
Andrew R. Xavier, MD; Adnan I. Qureshi, MD; Jawad F. Kirmani, MD; Abutaher M. Yahia, M; , Rohit Bakshi, MD. Neuroimaging of Stroke: A Review. South Med J. 2003;96(4)
S. Kamran, MB.BS, MD, V. Bates, MD, R. Bakshi, MD, P. Wright, MD, W. Kinkel, MD and R. Miletich, MD, PhD. Significance of hyperintense vessels on FLAIR MRI in acute stroke. Neurology July 25 2000;55(2):265-269
Eric Barnes. Part II: Modalities, input, and image processing see stroke differently. March 3, 2008
http://www.auntminnie.com/index.aspx?sec=ser&sub=def&pag=dis&ItemID=80178